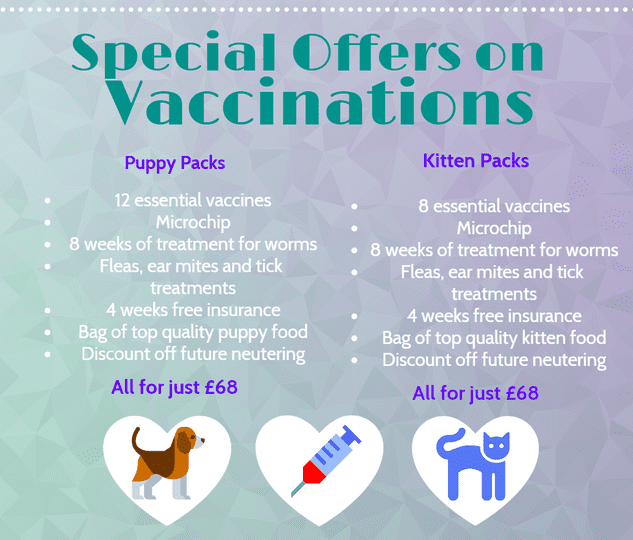 Terms and conditions apply. More information can be found below! Alternatively give us a call on 01535 609040 to enquire over the phone.




Extensive Kitten & Puppy Packs just £68 now for a limited period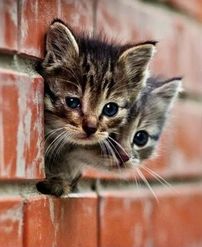 We have special offers on Kitten & Puppy Packs. These packs give you new pet a great start to a healthy life and they have just got even better and are one of the most comprehensive packages you can get. They include vaccinations, worming & flea treatment & treatment for other parasites. The pack also includes a full examination & check up. It also includes four weeks immediate cover with insurance with the UK leading pet insurance company (terms & conditions apply) and it includes a microchip. We even throw in a free bag of top quality kitten or puppy food. See below for more details.
Improved, puppy Packs: £68.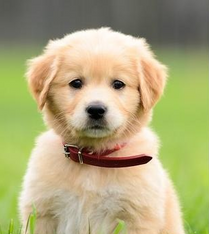 This pack has just got even better. Ideally these should be started at six weeks old. If your pup is already over 6 weeks old then in most cases it is best to let the puppy settle in at your house for the first week after you get him or her, and then make an appointment as soon as possible after this, for the first vaccination. Airedale Vets is using the latest dog vaccines & this is included in the Puppy Pack.The puppy pack includes vaccination with twelve vaccines in total. For more information about the diseases we vaccinate against at Airedale Vets visit our page on dog & cat vaccines. Usually this requires three appointments over four weeks, all included in the price. Very few practices offer this. Some practices only give seven vaccines with their puppy vaccination courses. We normally do not like to give more than four vaccines in one day which is why we normally ask you to come back three times compaired with the normal twice. Our pack also includes eight weeks of treatment for worms and fleas, twice as long as our previous puppy packs at now extra cost, including treatment against roundworm, hookworm, whipworm, heartworm, lungworm & fox lungworm and tape worms, protecting again twelve different types of worm. The puppy pack also includes treatment for fleas, ear mites, sarcoptic mange & biting lice, and ticks. It includes a microchip. The pack includes four weeks free insurance. This insurance can give full cover immediately which is a lot better than most insurance which often has a two week delay before you get full cover. Purchasing a puppy pack entitles you to a five percent discount off the price of neutering at Airedale Vets if neutered within one year of having the puppy pack (terms & conditions apply). We also will give you a bag of top quality puppy food worth.
Improved Kitten Packs £68
Like the puppy pack, the kitten pack has just got better for a limited period. It includes two lots of vaccinations, which includes four vaccines each visit, the 1st at eight weeks old.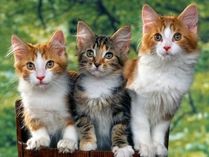 Thats four vaccines in just one injection each visit, ideally at three weeks apart. The best time for the first vaccination is at eight weeks old. The pack also includes a microchip, & four weeks free insurance which can be activated straight away to give immediate cover with the UKs leading pet insurance company(terms & conditions apply). The kitten pack also gives eight weeks of treatment & prevention for , fleas & ear mites, for round worm and hookworm, 31 days treatment for ticks. Also purchasing a kitten pack entitles you to a five percent discount of the price of neutering at Airedale Vets if neutered within two months of having the kitten pack. The package also includes a bag of top quality kitten food.

We vaccinate kittens & cats against Feline Leukaemia Virus, (please look at the paragraph below for more details on these diseases) Feline Rhinotracheitis Virus, Feline Calici Virus & Feline Parvo Virus (Panleukopenia Virus). There are some local practices who do not vaccinate against all these illnesses which leaves your cat at risk.

Feline Leukaemia Virus causes a type of cat AIDS. Humans cannot get cat AIDS nor can cats get human AIDS, however it is a very serious disease, & is usually eventually fatal. Feline Rhinotracheitis Virus & Feline Calici Virus are types of cat flu. Cat flu is a big problem, not only can these viruses cause serious acute disease, they can be fatal, they can also leave the cat with long term or permanent disease which can cause the cat a lot of suffering for the cat and be very expensive to treat. Feline Panleukopenia Virus causes vomiting & diarrhoea & is fatal in many cases.

The included pet insurance is with Pet Plan, terms & conditions apply. Because this insurance can start & give full protection immediately, it is better than most policies even if you pay for the policy. Terms & conditions apply.
Contact us on 01535 609040

To find out more, please drop us an email via the contact page, or give us a call using the number above.


Coronavirus update from Airedalevets - 20th April 2020.

Flea & worm (parasite) treatments for dogs and cats. (also Apoquel treatment for dogs)
Stay at home is the message we are all getting, everyone heard of this? :-)
However people with pets still need to look after their pets.
To help with this, we now have a free postal service for parasite treatments for dogs and cats, and for Apoquel.

We can set up a monthly delivery of parasite treament for your dogs and
cat, we charge nothing for the postage. Just email us on
mail@airedalevets.co.uk with you contact details and ask about this and
we will get back to you. We will need to set up a direct debit and Bob's
your Uncle, you will start to recieve a monthly treatment of parasite
control (or Apoquel) Email us and when we ring you back, before setting
anything up we will fully discuss with you everything, including the
cost, and you can ask any questions you may have. Once the direct debit
is set up, you can cancel it at any time without costs. (Of course terms
and conditions apply but you can look at these on line).

With this scheme we have a tablet for dogs. This is an amazing new product, it
treats &/or prevents!!! are you sitting comfortably?:.... four types
of ticks, both dog and cat fleas (yes dogs can get both dog and cat
fleas!), and worms: round worms, hookworm, lungworm and heartworm. Some
of the parasites can be dangerous to you dog, and some are dangerous to
humans too. We recommend that you give one tablet once a calender month.
Dr Peter Eccles's dog eats these tablets like a treat! This costs £9.60
for a dog weighing 10-19.9 Kg

For cats we have a spot on treatment. This treats round worm, hookworm, prevents heartworm infection, treats fleas and four types of ticks, ear mites, biting
lice. This costs just £8.64 for a cat weighing less than 5 Kg.
These aren't just any parasite treatments, thes are AVG parasite treatments! 🤔🙂


Special offers at Airedale Vets in Keighley and Wilsden, Bradford
Extra value Worm Tablet.

Airedale Vets now have a worm tablet that is probably the best worm tablet you can get and yet you can worm a dog weighing 24 Kg or a large cat for just £2.50 . (terms & conditions apply) This tablet will worm you dog against 12 different species of worm, including roundworm, hookworm, tapeworm & lungworm. We have the same amazing value worm tablet for cats at just £2.50 as well.

New Postal Service for Parasite Control
We have introduced a new way for you to get your wormers and flea & tick
treatments. Next time you are near the surgery pop in and buy a flea and worm
treatment and we can then set up free posting to you in the future at intervals
which suit you, or we can do this over the phone.

For cats we have a spot of product which is probably the best flea & tick treatment you
can get for cats, it also controls roundworm and hookworm, heartworm, fleas, ticks, lice and
mites. A monthly supply posted to your door costs under £7 a month (for cats weighing less than
5Kg ).

For dogs we have a tablet which controls fleas for at least 5 weeks. It also controls
ticks, sarcoptic mange, ear mites infestations, and Demodex. This costs less
than £10 a tablet for a 10-20 Kg dog. To complement this you can also get a
worm tablet that controls 12 different types of worms
(compare that with any other worm tablet!) which only costs £2.50!! a tablet
and you only need one tablet for a dog weighing less than 25 Kg (how does that
compare with your present worm tablet? We can't post these worm tablets out by
themselves but we can post them with the flea & tick tablet. If you want to
buy these amazing worm tablets without the flea and tick tablet you will need
to buy these from the surgery. They are a POM category medicine so we can only
sell them to our own clients.